McKinney Dent Removal Company
EXPERT ATTENTION FROM TECHNICIANS WHO CARE
Auto Hail Zone is a locally owned and operated McKinney paintless dent repair shop that provides honest and quality auto dent & ding removal services. From severe, all-over hail damage to just a few minor dents & dings, we have the expertise and experience to help get your vehicle dent-free, regardless if your vehicle is a car, truck, jeep or SUV. Our certified PDR technicians use the latest technology and equipment to quickly and affordably fix all damage. To pre-schedule your appointment online, complete our appointment request form or call our shop at 972-439-5455.
MCKINNEY DENT REMOVAL SERVICES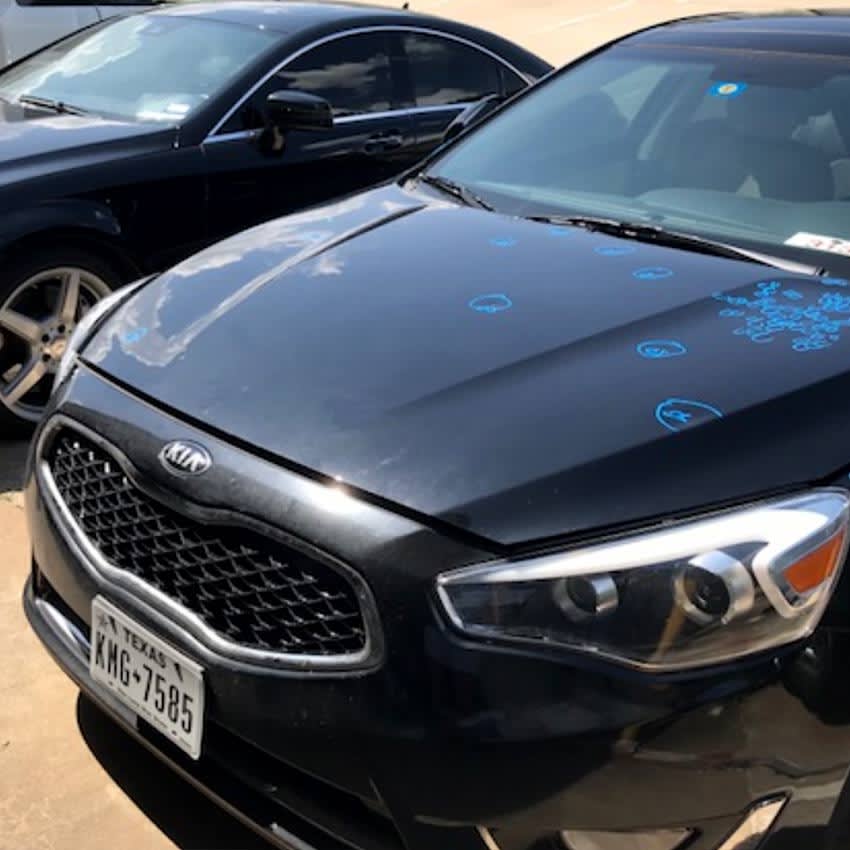 Paintless Dent Repair
Paintless dent repair is a process used to remove dents & dings from vehicles without disrupting the paint finish. PDR is environmentally-friendly repair & a fraction of the cost of tradition auto body repair.
You an learn more about our McKinney paintless dent repair services
here
or on our
FAQ page
.
Auto Hail Repair
The most common use for paintless dent repair is for removing hail damage. Auto Hail Zone is a full-service McKinney auto hail repair provider that will walk you through the entire repair process, including:
Hail Claims Assistance
Auto Glass Repair/Replace
What Can Be Repaired With Paintless Dent Repair?
360° DENT & DING REPAIR
Before Paintless Dent Repair is used as a repair option, a comprehensive inspection needs to be performed first by your insurance company, and then by an experienced PDR shop representative or technician. If it has been determined that there is no existing paint damage,
Paintless Dent Repair is always the best method for auto hail repair.
Hoods
When your insurance says replacement, we say get a second opinion. Most hood hail damage can be removed with paintless dent repair.
Side Panels
Side panel damage caused by parking lot door dings, shopping car mishaps, minor collisions, & hail damage can all be repaired with paintless dent repair.
Trunks
As long as the paint isn't damaged, there is no severe metal creasing or folding, all of your dent & ding damage can be repaired at Auto Hail Zone.
Roofs
We take pride in repairing what most technicians turn down or just can't repair. Even some of the most severe roof damage can be repaired with PDR.
Read What Our Customers Say About Our Work
MCKINNEY CUSTOMER TESTIMONIALS
Friday the 13th storms
I used these guys last year on two of my vehicles and again this year from Friday the 13th storms, paintless dent removal is the way to go! HIGHLY recommend Auto Hail Zone in McKinney. Thanks, Brian.
Melissa Crane
The owners of Auto Hail Zone are amazing! I took my car in on Saturday and just picked it up and it's flawless. I learned the owner, Brian M. has been doing PDR since it was invented. It is a local company, not one of those working from a tent and the nicest, most helpful people. I didn't have to worry about paying the deductible, they offered me a rental they would cover but I had rental coverage with Progressive. I will never use any company that has a 1-800 or 1-855 with NO local number or is setup on a corner working from a trailer or tent, so done with that! Happy to say this company is great!
Melissa Crane
McKinney, TX
Sergio Guerrero
They went above and beyond providing 100% satisfaction!
Sergio Guerrero
McKinney, TX
Schedule Inspection or Repair Appointment